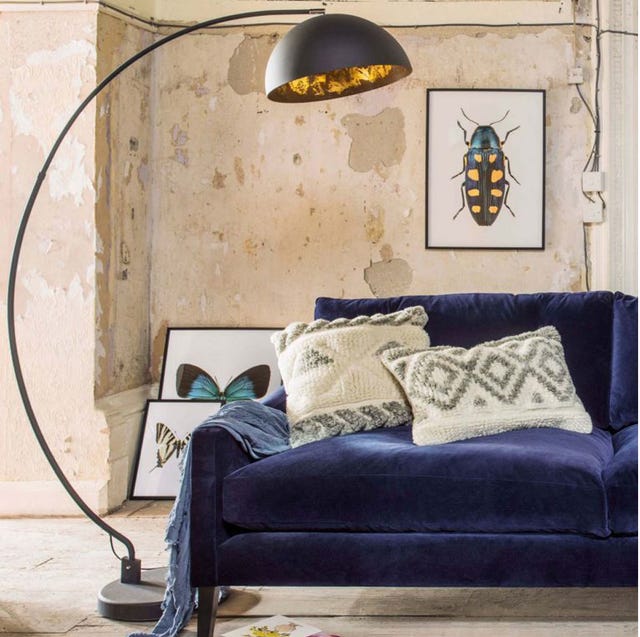 .
Don't underestimate the benefits of a good lighting scheme in your living room or bedroom. While you'll always need a main light, especially when the nights draw in and it gets darker, smaller lamps like floor and table lights provide that all-important ambience for cosy nights in. They also provide an extra boost of angled glow where you might need it for reading or working on something fiddly. A fancy floor lamp tucked in a corner, or strategically placed next to your side table, also makes a style statement in its own right.
In fact, studies have shown that lighting and mood are directly linked: getting an adequate amount boosts productivity, concentration and happiness levels, while too little can contribute to feelings of depression. As a result, lighting is a really important element to get right in your home.
So, whether you've gone all out for 2021's big boho trend, or prefer a more classic brass/marble combination, we've found 30 of the best floor lamps available to shop now.
Advertisement – Continue Reading Below
Best modern floor lamp
Metal Floor Lamp
For a barely there minimal look, this H&M lamp is a good choice. It's a steal at just under £60, too. 
Best arched floor lamp
Harrison Arc Black Floor Lamp
Another good value one here at under £100. This arching shape makes it a fantastic option for larger areas – position it over a side table, or next to a shelving unit for best results. 
Best gold floor lamp
Metal Floor Lamp
This one comes in a choice of gold or silver, depending on whether you like a warm glow or a frostier finish. The little marble accent adds a touch more glamour.
Best marble floor lamp
Downbridge Marble Floor Lamp
Marble and brass is a classic combination, and it works beautifully here in this lamp. A good one for small spaces, tuck this next to your sofa or armchair in the living room. 
Best retro floor lamp
Webster Floor Lamp
This wide shade is giving us retro sci-fi vibes and we're 100% here for it. 
Best double floor lamp
Metal Floor Lamp
Frosted glass bulbs just give such a lovely finish. This is a subtle design, but the double light fitting still makes for some strong impact. 
Leopold Brass Floor Lamp
We love this elegant geometric lamp base. It comes sans shade, but that means you can style it however you like.
Best floor lamp for reading
Bruges Floor Lamp
Here's a traditional reading lamp with an adjustable arm, so you can get the ambience just right. 
Best curved floor lamp
Arc Black Metal Floor Lamp
This one's spenny, yes, but look at the impact it makes in a room. A worthy investment if you want to create some proper wow factor.  
Most chic floor lamp
Marnie Floor Lamp
We're obsessed with this one – curved shapes have been all over the place recently and this is a beautiful way to bring this trend into your home. 
Best pastel floor lamp
Gaby Floor Lamp
If you've caught the pastel interiors bug then you'll need this lamp in your living room. Just look at that shade and base coordination. 
Best budget floor lamp
Octavia Floor Lamp
For those on a budget, this copper lamp fits the bill without sacrificing on style. 
Best anglepoise floor lamp
Anglepoise Floor Lamp
There's not much more classic than a traditional anglepoise lamp. It'll go with pretty much any scheme, too. 
Best fringed floor lamp
Camille Taupe Floor Lamp
Looking to add a bit of charm and flair to your space? A fun fringed lampshade will do just that. 
Best multipurpose floor lamp
Mugli Metal Floor Lamp
Small space havers, this one's for you. It doubles up as a side table (or at least somewhere to pop your cuppa) while you're relaxing on the sofa in front of this week's Love Island.  
Best bamboo floor lamp
Bamboo floor lamp
This is a low-level light so it's not a good option for reading, but it'll make empty corners look pretty while casting off a lovely glow.
Carmella Overreach Floor Lamp
With its sophisticated peacock blue shade, this will add some jewel-toned goodness into your space. Pair with some pink or peachy-hued cushions and gold accents throughout your room.  
Best maximalist floor lamp
Yvor Palm Tree Floor Lamp Base
Another good one here if you like a maximalist vibe – just pair with your most 'extra' lampshade.  
Jameson Adjustable Floor Lamp
This looks far more expensive than it actually is. The pale brass finish won't ever date and will fit with all decor schemes – so it's a good investment buy at a great price. 
Best pink floor lamp
Diffuser floor lamp
This lamp has a built-in diffuser to create soft shadows and muted lighting. Stylish and practical? Yes, please. 
Harry Floor Lamp
ANYDAY by John Lewis
£55.00
JL's new Anyday range covers all your basics at really great prices – and they're pretty stylish, too. This lamp comes in a choice of mustard, deep grey or this putty shade, which we think is really versatile. 
Best copper floor lamp
Muturi Floor Lamp
Still not over the copper trend? Us neither. This gorgeous lamp will warm up any cosy corner it's tucked into. 
Wooden Tripod Floor Lamp
Another clever idea for small spaces – this lamp has a couple of little shelves built in, so you can add some plants or a candle somewhere where you might not have space for a side table as well. 
Best boho floor lamp
Ronga Tripod Floor Lamp
If you've been all over the boho trend, this is your pick. Pair with a linen or seagrass shade for max effect. 
Skipper Floor Lamp
Looking for something really design-led? This Scandi-inspired piece has been handcrafted from solid wood and the brass bulb holder adds a bit of edge – it's definitely a talking point. 
Best rattan floor lamp
Noko Wicker Lamp
And here's another good boho option. This low-level lamp is good for creating a cosy ambience during evenings.
Raffia Floor Lamp
The wide disc-shaped shade here will help diffuse the light and create a lovely soft glowy ambience. Love the raffia material, too. 
Best statement floor lamp
Orb 8 Light Floor Lamp
John Lewis & Partners
£295.00
Erm, how cool is this? If you have a big space, this statement lamp will provide the impact large rooms need.
Tripod Floor Lamp
For a sleek, minimal look, this is a great option. We love the frosted bulbs, too. 
Best floor spotlight
Avery Flood Lamp
John Lewis & Partners
£60.00
Position a few of these strategically around your room for some proper mood lighting, Hollywood style. 
This content is created and maintained by a third party, and imported onto this page to help users provide their email addresses. You may be able to find more information about this and similar content at piano.io
Advertisement – Continue Reading Below