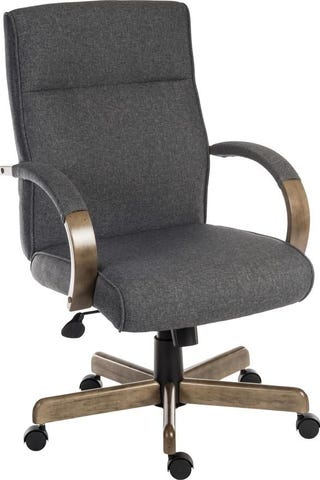 Garden office design ideas and advice from the experts
With working from home becoming the new normal for so many of us, it can be tricky to separate home and work life. Working from kitchen tables, dining rooms and bedrooms has meant a chaotic existence for many, and meant some have begun to look into alternatives.
For those who have the space, garden offices have been a popular choice, whether transforming existing sheds and summer houses or investing in a purpose-built space.
Alison Mansell, aka Shed Guru London, is a consultant who advises people on how to achieve the perfect set up for their garden offices and other outdoor rooms.
"The joy of being in a garden room is you can literally open the door and walk outside," says Alison. "It's the benefit of being able to leave your home and…make that separation between work and relaxation."
James Fox of Green Retreats, the garden room manufacturer backed by Grand Design's Kevin McCloud, agrees.
"The fact that it is a detached entity means you can switch off at the end of the day," he says. "It's also most multifunctional, so it doesn't have to be just an office, you can have a gym in there, you can have garden storage if you partition it."
To help you design your own garden office, we've spoken to experts James and Alison for all the best garden office ideas, covering everything from the best desk layout to planning permission rules.
Garden office design ideas
While it can be tempting to get drawn straight into selecting coordinating cushions and gorgeous stationary, there are some more pressing interior decisions to make first.
Shed Guru Alison advises her clients on everything from air flow and natural light considerations, to furniture positioning and temperature control.
How to choose your garden office desk
Firstly, think about the amount of work-space you are going to need. Are you on a laptop? Do you use multiple screens? Will you need a flat surface for sketching?
"If we're talking about desk space work say for what an accountant might do, that's a very different need to say if you're an artist, craftsperson or you're an architect," explains Alison.
The key is to look at the space you're using at the moment and decide what is and isn't working, then measure up for the best desk with the space you need.
"A bench-desk that can be slotted into an alcove, side return or a corner (preferably looking out over a window), can work well where space is at a premium," advises expert Alison.
Where you put your desk in your garden office is also important.
"Getting a lot of natural daylight is so much better for you than working under fluorescent tubing," she says. "Depending on whether your building is all south, east or west facing, that will determine exactly how much light you're getting."
"If you have more space to play with…consider one with two sides and a curve in the middle," Alison adds. "This will give you the option to keep files and everyday items on one side, so they are easily accessible without having to stretch."
Alison recommends the Tully I Ergonomic Desk which is can be bought as a right or left-handed option.
How to divide your garden office space
"It's a good idea to have a breakout space…to have actual physical meetings," says Alison. "I would suggest if you've got the space or the budget, have a breakout area that includes soft seating."
To help separate the space more clearly, Alison recommends using a room divider, or even using different floor coverings and paint to define different zones.
"The majority of people will be using their home office at a multipurpose space…whether it's a dedicated studio, whether it's a contemporary garden room, all of that will have an impact on how they use it," says Alison.
Clearly defining separate spaces, having plenty of storage and planning out your space before you start will all help you to get maximum use out of the room.
How to light your garden office
While an adjustable desk lamp helps with targeted lighting at close range, it's important to consider the overall lighting in your office space.
"Avoid wall lights or sconces as they can sometimes prevent you from placing furniture where it will be most useful," says Shed Guru Alison.
"Consider down-lights inset into the ceiling [and] avoid a hanging pendant light unless you have a large space with a hipped roof. They can make the ceiling seem lower."
Garden office trends: biophilic design
Alison explains that one of the big trends for 2021 is biophilic design, which essentially means bringing the outdoors, indoors and blending the spaces together.
"[You get] the added benefit of being able to sit in a space where you can connect with the outside and with nature and get all the benefits," she says.
To make the most of your window views even with limited space, Alison says, "You should ideally leave some breathing room around your building (say 30-50cm) which gives you just enough room for a narrow plant bed," for instance, something tall like bamboo which will grow high enough to see at the window.
If your window looks out onto to a fence or wall, you could also hang a garden mirror as this "will bounce additional light into the room and trick the brain into believing there is a deeper space," says Alison.
Another way to bring blend the indoors and outdoors, is simply to stock up on potted plants.
How to control your garden office temperature
While large glass doors and expansive windows looking out into the garden might look fabulous and allow plenty of light into your space, they will also affect the temperature of your garden office.
An insulated building can help retain warmth from any radiators or heaters you use. In the summer, however, the insulation and extra sunlight streaming through lots of glass can begin to warm your garden office in a similar way to a greenhouse or conservatory.
"Having a window treatment will help you control the atmosphere inside the building when you're working," says Alison, as can various blinds.
For additional shade, she recommends "having an awning on the outside, something that reflects heat away from where you are, and plenty of doors. You need to think about the air flow in the building."
How to build a garden office
James Fox of Green Retreats explains the ins and outs of building or buying your own garden office and offers his expert advice on what you need to consider.
What types of garden office are there?
You may already have a garden room or be planning to adapt an existing shed or summer house.
This content is imported from Pinterest. You may be able to find the same content in another format, or you may be able to find more information, at their web site.
Otherwise, you could be investigating buying a ready-made garden office or looking into custom built options, such as the structures Green Retreats specialise in.
In terms of shape and size, garden offices "can vary in width and depth so you can have one that's longer than deep or deeper than it is wide, depending on the size of your garden," explains James Fox, adding that Green Retreats only offer square or rectangular builds.
When you're building your own garden room or office, you can choose the functions and additional options you want, such as a particular wood cladding or double doors.
There are a wide range of add-ons such as "air conditioning, under-floor heating, automated blinds, bifold doors, big sliding doors, big French doors, partitioning, different choices of laminate floor" and more, says James.
How much do garden offices cost?
If you're looking at fitting out an existing structure such as a shed or summerhouse, your costs will be mainly influenced by the furniture and fittings you choose.
The costs of buying or building a new garden office, however, will vary greatly depending on the size and spec you opt for.
"The smallest one [Green Retreats] offer is two metres by two metres and that is £16,745," says James. The largest is "30 square metres internally and that's £29,245 for the building shell basically. Our average sale cost is between 22 and 28 thousand."
Different companies will offer varying prices and any additions or amendments such as premium fixtures and fittings will also influence the final cost.
However, as well as providing a functional and productive space, James Fox explains that a Garden Office could potentially help your house more valuable.
"We recently worked with a couple of really good estate agents [who] identified that garden rooms add value to your property," he said.
Do you need planning permission for a garden office?
Most people shouldn't need planning permission for a garden office, "unless you are in an area of outstanding natural beauty, an area of scientific interest or a listed property," explains James Fox.
He says that because garden offices would be classed as temporary structures "they can be built as any outbuilding would, as you would a shed."
However, ensure you check the planning rules specific to your property before you begin building.
Do you need foundations for a garden office?
Most garden offices won't need foundations, particularly if they are similar to a shed or summerhouse structure which can sit on flat ground.
For more structured buildings such as those offered by Green Retreats, James explains they can be built on any level surface with the use of concrete piles.
"Concrete piles are basically a big drill that gets drilled into the soil…and then we pour in concrete that goes hard and then on top of that, we lay packing blocks that make the building base fit nice and flat," he says. "It's not actually stuck to the floor, it's its own weight that keeps the building down. They are tonnes worth of buildings, so they're not going anywhere."
---
Like this article? Sign up to our newsletter to get more articles like this delivered straight to your inbox.
In need of some positivity or not able to make it to the shops? Enjoy Good Housekeeping delivered directly to your door every month! Subscribe to Good Housekeeping magazine now.
This content is created and maintained by a third party, and imported onto this page to help users provide their email addresses. You may be able to find more information about this and similar content at piano.io